Student Makes N290.5 Billion Yearly Creating Bags She Started as Side Business
Student who started a bag business as a side hustle says she has made over N290 billion every year from it
Wilglory Tanjong from Senegal lunched her business for fun after being asked frequently by people to help them buy stuff
Now she said her bags has been endorsed by pop star, Beyonce and has seen explosion in sales since 2021
Two years, ago MBA student, Wilglory Tanjong from Senegal, launched her bag business for fun.
Now, she sells her bags everywhere, including Nordstrom and Revolve and also got pop singer, Beyonce to endorse her bags on Instagram.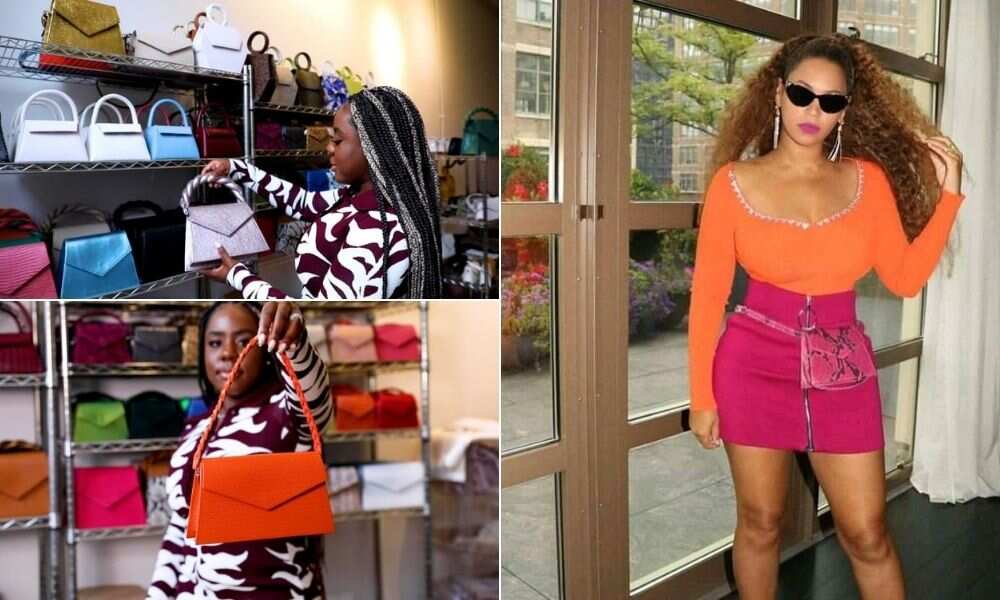 Amina Iris, as her bag business is known, has made over N290.5 billion in lifetime revenue since launching in 2020 with about N250.5 million in 2021 alone. Her company has recently earned about N41.5 million revenue every month.
Tanjong said her business has been a therapeutic project for her. According to the 25-year-old, she's always been a fashionable person and people always ask her where she got stuff anytime she is seen with new things.
DUBA: Shigo shafin Legit.ng na manhajar Legit.ng na Telegram! Kada ka bari komai ya wuce ka
Her business did not start because she wants to make money. He said her business honours her ancestral background.
Runs in the family
She grew up seeing her parents running their own business. She moved from Cameroon to Maryland in the US when she was 2-years-old. She said her parents held different jobs and even owned a laundry business.
In 2018, Tanjong the first university graduate and moved to Atlanta in Georgia to start a new role as an operational manager at a manufacturing and supply firm.
She told CNBC that she was making N35.6 million in annual salary. She saved around N9. million from working on campus and summer jobs. She got N20.7 million from her mother as an inheritance.
Tanjong has travelled around Africa for six months, starting in Ghana where she started to network with young entrepreneurs.
Ideas for Monetization
When she travelled to Senegal, she found a community of artisans who were making bags and jewellery and the idea struck.
According to her, she realised there was a great gap in the market. Women of colour, black women specifically, have been excluded from the luxury business narrative.
With her local artisans, she started to make bags and Jewellery and speak with other artisans in the area, she sent about N2 million from her savings into the company. The money covered travel, materials and labour to make about 50 bags.
Going in fully
After a soft launch in November 2019, Tanjong focused on handbags. She started Anima Iris in February 2020, formally stopped her full-time job and moved to Philadelphia a month later.
Her business, Amina Iris had its first viral success in June 2020 when the brand featured in a Vogue article that promoted black beauty and fashion brans. Her blogger tweeted the links to the article and the company's webpage including photos of the bags. The post received close to 300,000 retweets and the website immediately sold out.
Her greatest success came in August 2021 when she opened her Instagram and spotted Beyonce with her brand.
Legit.ng reported that the hard work of a Nigerian student has finally paid off as he is now an engineering graduate. The student identified as Christian Ikechukwu Agu had to wash cars and do other jobs to raise money for his education.
Ikenna's determination to further his education made him to continue searching for ways to raise money.
When he finished secondary school, there was no finance for him to continue his education. But because he had the desire, he had to find a way.
Asali: Legit.ng