Yanzu Yanzu: Yan bindiga sun sake kona wani ofishin yan sanda a kudu maso gabas
- Wasu gugun mutane da ake zaton 'yan bindiga ne sun kai farmaki tare da kona ofishin 'yan sanda da ke yankin Uzoakoli, karamar hukumar Bende da ke jihar Abia
- Sun kai harin ne a safiyar yau Litinin, 19 ga watan Afrilu, inda suka saki wasu da aka tsare a kurkuku
- Sai dai babu tabbacin ko sun kai hari dakin ajiyar kayan yaƙi na 'yan sandan
Rahotanni sun kawo cewa wasu 'yan bindiga sun kai hari tare da kona wani ofishin 'yan sanda a Uzoakoli, karamar hukumar Bende da ke jihar Abia.
Lamarin ya faru ne da sanyin safiyar Litinin, 19 ga watan Afrilu, jaridar The Nation ta ruwaito.
KU KARANTA KUMA: Lai Mohammed ya caccaki masu son a raba kasa, ya ce rikici na bullowa zasu tsere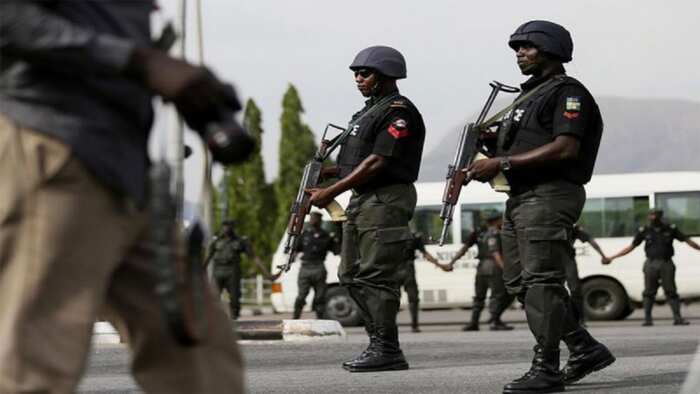 Yayinda ba a samu cikakken bayani kan harin ba a daidai lokacin kawo wannan rahoton, an tattaro cewa 'yan bindigar sun sha karfin' yan sanda da ke bakin aiki sannan suka saki masu laifin da ke tsare.
Ba a bayyana ba ko sun mamaye ma'ajiyar kayan yaƙi na 'yan sanda.
KU KARANTA KUMA: Jihar Ondo za ta fara gwanjon shanun da ta kama da lalata gonakin 'yan jihar
A wani labarin kuma, Ministan tsaro a Najeriya ya bukaci rundunar sojoji ta Operation Lafiya Dole da kada su ji tsoron harbin bindiga.
Ya bayyana cewa, ba zasu taba tsallake kaddarar mutuwarsu ba ko da kuwa suna dakin kwanansu ne.
Ya bayyana haka ne a wata ziyarar da ya kai Maiduguri babban birnin jihar Borno a jiya Lahadi.
A gefe guda, wani harin 'yan bindiga, akalla gidaje 50 ne suka kone tare kayan gona a wani sabon rikicin kabilanci a garin Nyuwar, na Jessu da ke jihar Gombe, The Punch ta ruwaito.
Ku tuna cewa an kashe mutane 19 tare da daruruwan gidaje da ba a san ko su waye suka lalata ba a rikicin Waja/Lunguda.
Wani shaidar gani da ido, Ily Maisanda, ya ce tuni mazauna garin suka tafi Yolde don tsare kansu, in da 'yan bindigan suka yi amfani da wannan dama wajen kai sabon hari a Nyuwar ranar Lahadi.
Source: Legit