Fasto Adeboye ya bayyana gaskiyar lamari game da Gwamna El-Rufai
- Kyakkyawan zuciya yana daya daga cikin kyawawan halayen Gwamna Nasir El-Rufai na Kaduna
- Fasto Enoch Adebayo na RCCG ne ya bayyana wannan gaskiyar a ranar Talata, 13 ga Afrilu
- Fasto Adebayo ya ci gaba da bayyana cewa ya san gwamnan na wani dan tsawon lokaci
Yayin ganawar da Fasto Enoch Adeboye yayi da Nasir El-Rufai a ranar Talata 13 ga Afrilu, ya bayyana wasu bayanan sirri game da gwamnan na Kaduna.
Ziyarar Adeboye zuwa gidan gwamnatin jihar ta zo ne a daidai lokacin da aka sako mambobin cocin Redeemed Christian Church of God (RCCG), jaridar Punch ta ruwaito.
KU KARANTA KUMA: Mutane da yawa sun mutu a rikicin kabilanci a kan iyaka a Gombe, Adamawa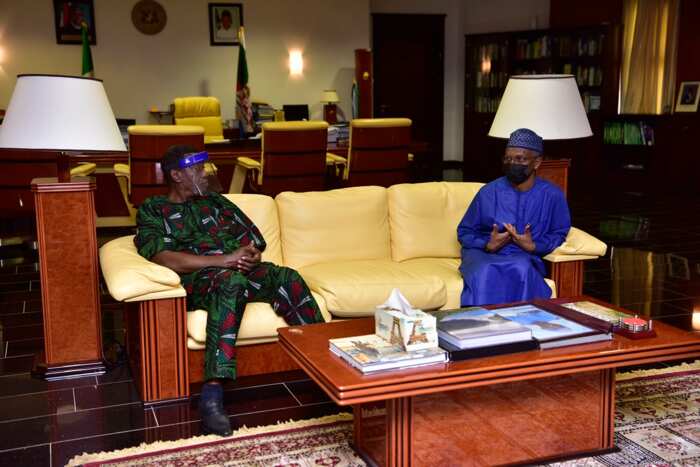 A cewar jaridar Daily Trust, a ziyarar, shahararren malamin ya bayyana cewa ya dade da sanin gwamnan, ya kara da cewa gwamnan ya kasance mutum mai kirki.
Fasto Adeboye ya ce:
"Mun san juna tsawon shekaru. Na san irin mutumin da kake. Na san kai mai taushin zuciya ne.
"Na san yadda kake ji, musamman lokacin da sace-sacen mutane ke gudana. Lokacin da suka fara satar yara 'yan makaranta, na san yadda dole kake ji."
KU KARANTA KUMA: Abun bakin ciki: Gobara ta lakume daliban makaranta 20 a Nijar
A baya mun ji cewa, shugaban cocin Redeemed Christian Church of God, Fasto Enoch Adeboye, a ranar Talata, ya gana da gwamnan jihar Kaduna, Nasir El-Rufai.
An yi ganawar ne a gidan Gwamnati na Sir Kashim Ibrahim da ke Kaduna.
Gwamnatin Kaduna ta sanar da batun ganawar shugabannin biyu a shafinta na Instagram.
Source: Legit