Yanzu-Yanzu: AS Roma Ta Naɗa Mourinho a Matsayin Sabon Kocinta
- Kungiyar AS Roma ta kasar Italiya ta nada Jose Mourinho a matsayin sabon kocinta
- Hakan na zuwa ne kimanin makonni biyu bayan kungiyar Tottenham ta Portugal ta kore shi
- Roma ta yi ikirarin cewa 'Special One' ya amince zai zama sabon babban kocinta a kakar wasar 2021/22
Kungiyar wasar kwallon kafa ta AS Roma ta nada Jose Mourinho a matsayin sabon babban cocinta gaban kakan wasa na gaba.
Kungiyar ta fitar da sanarwar ne a ranar Talata, makonni bayan Tottenham Hostspurs ta kore shi a matsayin koci.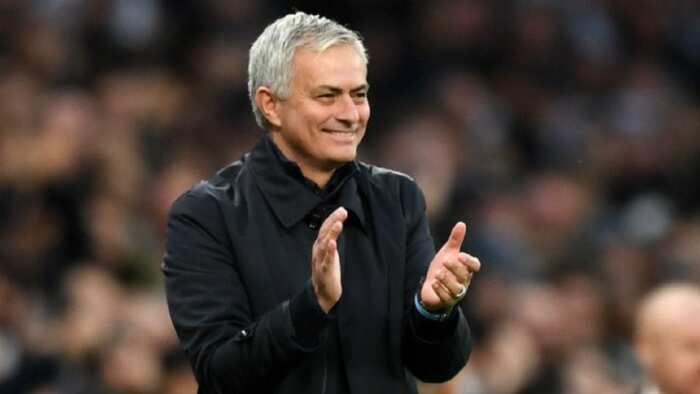 DUBA WANNAN: Korar Ma'aikata 30,000 da El-Rufai Ya Yi Ne Ya Janyo Matsalar Tsaro a Kaduna, Ƙungiyar Ƙwadago
DUBA WANNAN: An Kama Soja da Harsashi Sama da 2000 a Tashar Mota a Maiduguri
Mourinho mai shekaru 58 ya ce zai kama aiki ba tare da bata lokaci ba yana mai cewa:
"Babu bukata, babu bukatar hutu ko yi wa batiri caji. A koda yaushe cikin kwallon kafa na ke."
Zai maye gurbin Paulo Fonseca a lokacin da zai ajiye aikinsa a kungiyar ta Italiya a karshen kakan wasar a cewar babban manajan Roma Tiago Pinto a hirarsa da Mirror.
Mourinho na daga cikin koci da suka samu nasara sosai a tarhin wasan kwallon kafa duba da cewa ya lashe manyan kofi 25 a aikinsa kawo yanzu.
Daga cikin kungiyoyin ya yi aiki da su a matsayin koci akwai FC Porto, Chelsea, Inter Milan, Real Madrid, Manchester United and Tottenham Hotspur.
A wani labarin daban kunji wasu matasa a Daura, a ranar Alhamis 29 ga watan Afrilu sun kaddamar da kungiyar ta goyon bayan Dr Abubakar Bukola Saraki ya fito takarar shugabancin kasa a zaben 2023, Daily Trust ta ruwaito.
Shugaban kungiyar, Abubakar Nuhu Adam, ya ce sun yanke shawarar kafa kungiyar na goyon bayan tsohon shugaban majalisar ya yi takarar shugaban kasa ne saboda abin da ya yi da kuma abubuwan da ya ke yi wa matasa a kasar.
Hon. Adam ya bada misali dokar 'Not Too Young To Run' da aka aiwatar lokacin Saraki na shugabancin majalisa da kuma goyon bayan da ya bawa matasa su yi takarar kwamitin zartawar na jam'iyyar PDP da wasu sauransu.
Source: Legit