Za ku ji cewa 'yan uwan wani dalibi, Damilare Taiwo, sun shiga cikin hali na matsananciyar damuwa yayin da suka samu rahoton mutuwar sa bayan kwana guda da shiga makarantar horas da dakurun soji dake jihar Kaduna.
Rahotanni kamar yadda shafin jaridar The Punch ya ruwaito sun bayyana cewa, a ranar Talatar da ta gabata ne Damilare wanda bai wuci shekaru 20 a duniya ba, ya yanke jiki ya fadi yayin wani atisaye a makarantar horas da dakarun inda nan take ya sheka lahira.
Wannan lamari na mutuwar bazata ta Damilare ya jefa zargi cikin zukatan iyaye da 'yan uwa musamman mahaifiyar sa, inda cikin karaji da kururuwa ta bayyana cewa dakarun soji ne kurum suka lakadawa dan ta dukan tsiya har sai da yace ga garin ku nan.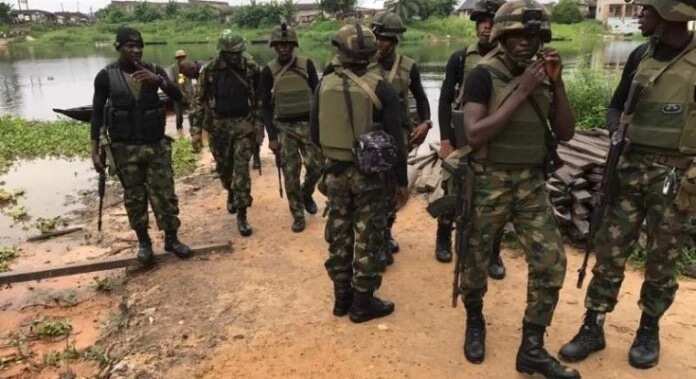 Marigayi Damilare wanda bayan kwana guda da kammala karatun sa a fannin nazarin tattalin arziki daga jami'ar jihar Legas ta garin Akoka, ya kuma nufaci jihar Kaduna domin fara wani nazarin a fannin koyan aikin soji da ya shafe tsawon rayuwar sa yana muradi.
Damilare ya nemi shiga aikin soji a shekarar 2015 inda ya yi rashin nasara da hakan ya sanya ya kama karatun sa gadan-gadan a jami'ar ta Legas kuma kwanci tashi ya kammala a bana.
KARANTA KUMA: Zamba: Hukumar EFCC ta fara bincike kan Shugaban Ma'aikatan Buhari, Abba Kyari
Marigayi Damilare ya kuma sake neman shiga aikin sojin inda a wanna karo ya yi nasara kasancewar lamari na rayuwa kamar yadda Mai Duka ya tsara idan rabo ya tsaga ba bu makawa sai ya riski mutum.
Legit.ng ta fahimci cewa, Marigayi Damilare na daya daga cikin mutane 10 'yan asalin jihar Osun da suka samu nasarar shiga aikin sojin a bana, inda ashe ajali ne ya kiraye tun daga mazaunar sa ta jihar Legas.
Domin neman tabbatar da wannan lamari, jaridar ta The Punch ta yi rashin sa'a yayin tuntubar hukumar dakarun sojin wajen kalato bayanai da rahotanni.
Latsa wannan domin samun sabuwar manhajar labarai ta Legit.ng Hausa a wayar ku ta hannu: https://play.google.com/store/apps/details?id=com.naij.hausa&hl=en
Domin shawara ko bamu labari, a tuntube mu a: labaranhausa@corp.legit.ng
Ku duba shafukanmu na dandalin sada zumunta a:
https://business.facebook.com/pg/naijcomhausa
https://twitter.com/naijcomhausa
Source: Hausa.legit.ng