Rijiyar OPL: Kungiyoyi 4 sun jefawa Abubakar Malami jerin tambayoyi
Wasu kungiyoyi masu zaman kansu da su ke lura da yadda badakalar rijiyar man OPL 245 ta ke tafiya sun jibgowa Ministan shari'a, Abubakar Malami, wasu tambayoyi.
Jaridar Premium Times ta ce wadannan kungiyoyi hudu su na so Abubakar Malami SAN ya bada amsa game da wasu kadarorin gwamnatin Najeriya da aka karbo.
Kungiyoyin da su ka aika wannan tambayoyi masu yawa su ne; Corner House, Global Witness da kuma Re:Common. Wadannan kungiyoyin su na aiki ne a kasashen Turai.
Kungiyar karshe da sunan ta ya fito a kalubalen da ke jiran minista ita ce Human and Environmental Development Agenda watau HEDA da ke Najeriya.
Jaridar ta ce kungiyoyin sun aikawa ministan shari'a kuma babban lauyan gwamnatin tarayya wadannan tambayoyi ne a ranar Lahadi, 26 ga watan Yuli, 2020.
KU KARANTA: Mutum 3 da su ka binciki Magu sun samu kujeru a Gwamnatin Tarayya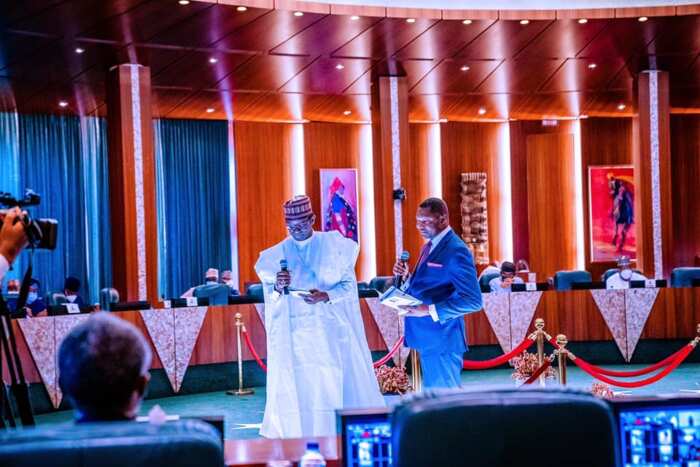 Ana zargin an wawuri makudan kudi a cinikin rijiyar man OPL 245 wanda har yanzu ake ta kai ruwa rana tsakanin gwamnatin Najeriya da kamfanonin Shell da Eni.
Gwamnatin tarayya ta na zargin wasu tsofaffin jami'an gwamnati da sulalewa da kudin da aka saye rijiyar man, an yi wannan ciniki ne a shekarar 2011.
Daga cikin tambayoyin da ake yi wa Malami, har da bayani game da kwangilar da ke tsakanin kamfanin Johnson and Johnson da Drumcllife.
Kunguoyin sun nemi ministan ya yi bayani ko ya san da labarin yarjejeniyar da aka yi ko kuma Johnson and Johnson ya yi wa gwamnatin kasar bayanin wannan kwangilar.
Ana kuma binciken ko kamfanin Johnson and Johnson ya taba aiki a matsayin mai ba Najeriya shawara wanda hakan zai yi tasiri a dangatakar da ke tsakanin biyun.
Idan ku na da wata shawara ko bukatar bamu labari, tuntube mu a: labaranhausa@corp.legit.ng
Latsa wannan domin samun sabuwar manhajar labarai ta Legit.ng Hausa a wayar ku ta hannu: https://play.google.com/store/apps/details?id=com.naij.hausa&hl=en
Ku biyo mu a shafukanmu na dandalin sada zumunta:
Facebook: https://facebook.com/legitnghausa
Twitter: https://twitter.com/legitnghausa
Source: Legit