Kungiyar ma'aikatan man fetur ta NUPENG (Nigeria Union of Petroleum and Natural Gas Workers), ta bai wa dakarun sojin sa'o'i 24 akan su kauracewa farfajiyar wani kamfanin man fertur domin gujewa afkawar ta yajin aiki na kasa baki daya.
Cikin wata sanarwa can jihar Legas a ranar Alhamis din da ta gabata, shugaban kungiyar Mista Williams Akporeha, ya kirayi shugaban hafsin sojin kasa na Najeriya akan ya janye dakarun sa daga farfajiyar kamfanin hako man fetur na Sterling Energy Exploration dake garin Warri a jihar Delta.
Kungiyar ta NUPENG ta bayyana wannan bukata ga shugaban hafsin sojin cikin wata rubutacciyar wasika ta janye dakarunsa wanda muddin ba haka ba za ta afka cikin yajin aiki na kasa baki daya.
Legit.ng ta fahimci cewa, kungiyar ta bai wa dakarun sojin wa'adi na kwana guda akan su tattara ina-su-ina-su tare da gargadin su kan sake yi ma ta katsalandan tsakaninta da kamfanin na Sterling.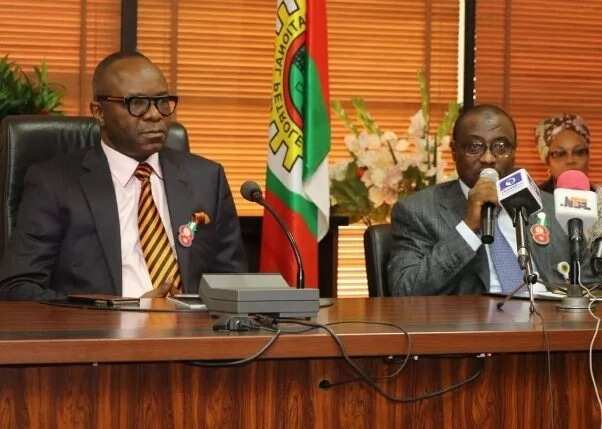 Shugaban kungiyar, ya kuma kirayi gwamna jihar Delta, Ifeanyi Okowa, akan ya shiga cikin wannan lamari tare da neman ruwa da tsakin sa dangane da dambarwar dake tsakanin kamfanin da kuma kungiyar.
Rahotanni sun bayyana cewa, kungiyar ta umarci dukkanin mambobin ta dake garin Warri akan su yajin aiki ciki gaggawa sakamakon cin fuska gami da muzguni da kamfanin ke yiwa ma'aikata tare da hadin gwiwar dakarun soji.
KARANTA KUMA: Sai mun ga bayan kudirin shugaba Buhari na sake neman takara - PDP ta sha alwashi
Akporeha ya bayyana cewa, kamfanin a halin yanzu ya sallami fiye da ma'aikatan sa 2000 sakamakon rashin ficewa daga babban kungiyar ta NUPENG, inda ya bayyana wannan lamari a matsayin zalunci da muzguni daga bangaren kamfanin.
Rahotanni da sanadin shafin jaridar Sun news sun bayyana cewa, kamfanin wanda mallaki wasu 'yan kasar Indiya ne na tursasa ma'aikatan su tare da hadin gwiwar dakarun soji wajen amincewa da sharuddan gudanar da aiki da suka sabawa dokoko na babbar kungiyar ta kasa.
Latsa wannan domin samun sabuwar manhajar labarai ta Legit.ng Hausa a wayar ku ta hannu: https://play.google.com/store/apps/details?id=com.naij.hausa&hl=en
Domin shawara ko bamu labari, a tuntube mu a: labaranhausa@corp.legit.ng
Ku duba shafukanmu na dandalin sada zumunta a:
https://business.facebook.com/pg/naijcomhausa
https://twitter.com/naijcomhausa
Source: Hausa.legit.ng