Jama'a sun shi halin dar-dar a yankin Ikorodu sakamakon farmakin ramuwar gayya da wasu sojoji suka kai bayan wasu yan kungiyar asiri sun kashe jami'in soja.
Al'umman yankin Ikorodu dake jihar Lagas sun wayi gari cikin fargaba yayinda fusatattun sojoji suka kaiwa yankin kawanya.
Mamayar ya kasance harin daukar fansa, sakamakon kisan wani soja da ake zargin yan kungiyar asiri da aikatawa a yankin.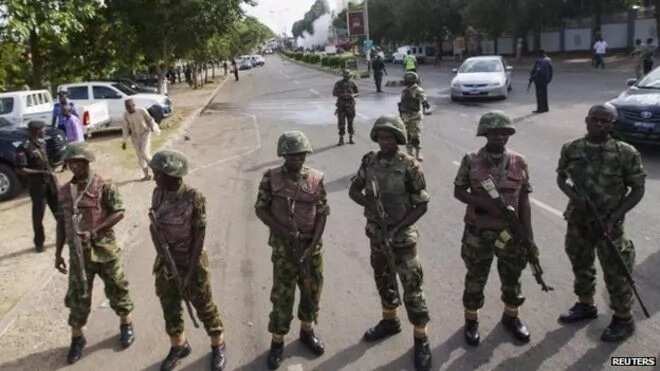 Jaridar The Guardian ta rahoto cewa sojoji sun kai mamaya yankin Solomada Estate a safiyar ranar Alhamis, 23 ga watan Agusta.
KU KARANTA KUMA: Rage darajar shugabanci zuwa tafiya kadai abun bakin ciki ne – Dankwambo
A baya Legit.ng ta rahoto cewa rundunar yan sanda ta jihar Ogun ta samu nasarar cafke wasu mutane guda uku a yankin Atan-Otta dake jihar, bisa laifin satar na'urorin sarrafa wutar lantarki daga hasken rana, da kudinsu yakai Naira Miliyan 14, mallakin kamfanin MTN.
Barayin da aka bayyana sunayen su, sun hada da Kehinde Yahya, 36, Akeem Ademola, 36 and Taofeek Oladele, 36, sun kuma sace na'urorin ne a ranar asabar, 18 ga watan Augusta, sai dai dubunsu ta cika ne lokacin da tawagar jami'an sa kai ta Onigbongbo suka yi ram da su.
Idan ka na da wata shawara ko bukatar ba mu labari, a tuntube mu a labaranhausa@corp.legit.ng
Ku same mu a https://www.facebook.com/naijcomhausa
Ko a http://twitter.com/naijcomhausa
Latsa wannan domin samun sabuwar manhajar labarai ta Legit.ng Hausa a wayar ku ta hannu: https://play.google.com/store/apps/details?id=com.naij.hausa&hl=en
Source: Hausa.legit.ng