A sakamakon ci gaba da dabbaka dokar hana fataucin maganin tari na Codeine da gwamnatin tarayya ta zartar a makon da ya gabata, hukumar yaki da fataucin muggan kwayoyi ta kasa ta cafke wasu miyagu 17 a jihar Kwara.
Hukumar ta NDLEA (National Dr*gs and Law Enforcemnet Agency) ta cafke wasu mutane 17 a jihar Kwara dake Arewacin Najeriya yayi da suke yunkurin sumoga na maganin zuwa wasu yankunnan domin cin kasuwa.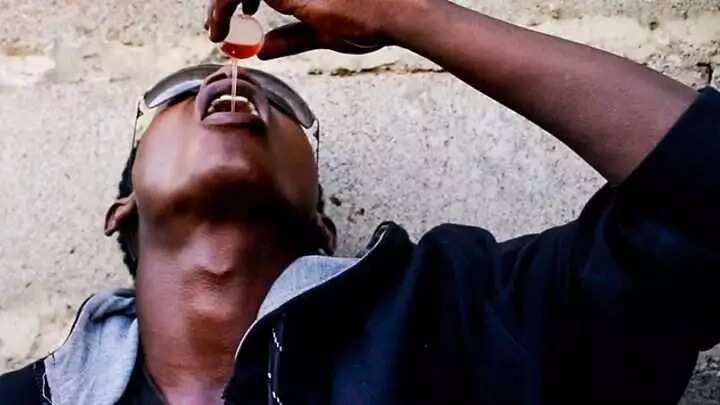 A yayin ganawa da manema labarai a ranar Alhamis din da ta gabata, kwamandan hukumar na jihar Mista Onah Ogilegwu ya bayyana cewa, ma'aikatan sa sun samu nasarar kai hannu kan wasu mutane 13 dauke da maganin na tari a wasu sassa daban-daban dake fadin jihar.
KARANTA KUMA: Hana Fatauci Maganin Tari ba tare da tsauraran Matakai ba zai wadatar ba a Najeriya - JNI
Kamar yadda jaridar The Natin ta ruwaito, rundunar sojin sama dake gudanar da aikace-aikace a yankin ke da alhakin cafke wannan miyagu inda da danka su hannun hukumar ta NDLEA.
Ogilegwu ya ci gaba da cewa, a ranar Asabar din da ta gabata ne hukumar ta damek wasu mutane biyu dauke kwalabe 600 na maganin a yayin da suke kan hanyar su ta zuwa jihar Kaduna.
Latsa wannan domin samun sabuwar manhajar labarai ta Legit.ng Hausa a wayar ku ta hannu: https://play.google.com/store/apps/details?id=com.naij.hausa&hl=en
Domin shawara ko buƙatar bamu labari, tuntuɓe mu a: labaranhausa@corp.legit.ng
Ku duba shafukanmu na dandalin sada zumunta a:
https://facebook.com/naijcomhausa
https://twitter.com/naijcomhausa
Source: Hausa.legit.ng