-Bincike ya nuna cewa sarauniyar ingila jikar manzon Allah ﷺ ta karni 43 ce
-Wannan bincike ya fara bayyana ne a shekarar 1986 yayinda jaridar tarihi, Burke, ya gano tsatson
-Duk da cewan wasu sun musanta hakan, tarihin kasar Andalus ya bayyana hakan
Legit.ng ta samu rahoto daga Dailymail UK cewa masana tarihi sun yi imanin cewa sarauniyar Ingila, Elizabeth, jinin manzon Allah ﷺ ce ta karni 43 baya.
Wannan bincike ya fara bayyana ne a shekarar 1986 yayinda wani jaridar tarihi, Burke, ya gano tsatson.
Amma sabon bincike ya sake bayyana bayan wani jaridan kasar Maroko ta ce lallai ta gudanar da bincike kuma ta gano alakar Saruniyar Ingila da jinin Annabta.
Game da binciken, Sarauniyar Elizabeth jikar Earl of Cambridge ce na karni 14 zuwa tsohuwar daular Andaluna zuwa diyar manzon Allah Fatima.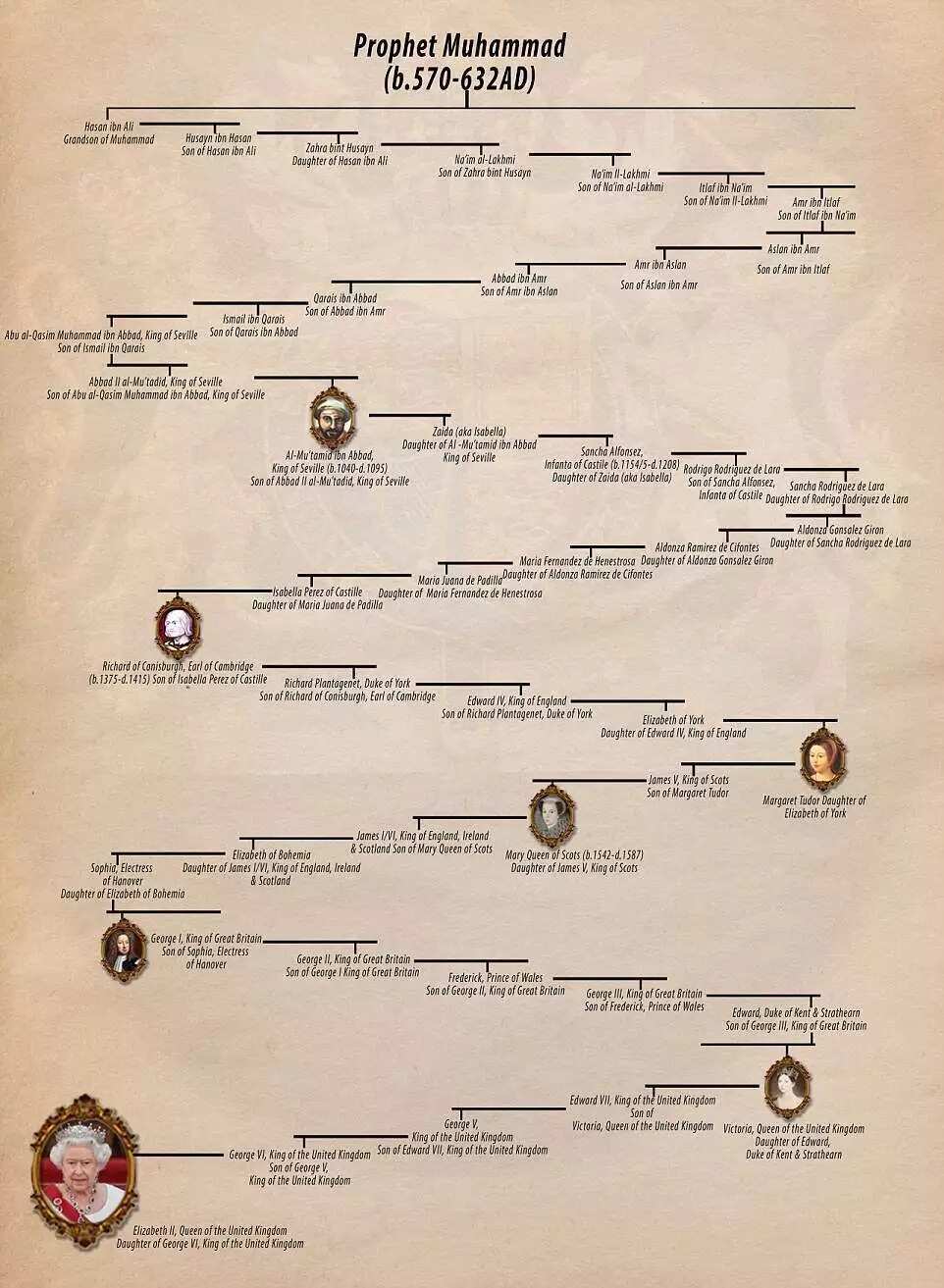 Duk da cewa wasu masana sun musanta hakan, tsohon Mufti na kasar Masar, Ali Gomaa ya tabbatar da wannan.
A shekarar 1986, diraktan jaridar Burke ya rubutawa Firam Ministan Birtaniya na lokacin, Margaret Thatcher, cewa ya kamata a kara karfin tsaron gidan sarautan saboda harin yan ta'adda"
Bayyanan wannan abu zai baiwa mutane mamaki, ya kara da cewa, 'mutanen Biraniya basu taba sanin cewa sarauniyarsu jinin annabata bace'. Amma malaman addini suna alfahari da wannan bincike.
KU KARANTA: Nafi jin dadin saduwa da kananan yara - Wani mutum da ya yiwa karamar yarinya fyade
Binciken ya ce sarauniyar ta samo asali ne daga sarauniya mai suna Zaida, wacce ta gidi daga garin Seville a karni na 11 kafin ta koma addinin Kirista.
Zaida matar Sarki Al-Mu'tamid ibn Abbad ce ta hudu. Ta Haifa masa yaro mai suna Sancho, wanda ya auri Earl of Cambridge a karnin.
Latsa wannan domin samun sabuwar manhajar labarai ta Legit.ng Hausa a wayar ku ta hannu: https://play.google.com/store/apps/details?id=com.naij.hausa&hl=en
Ku biyo mu a shafukanmu na dandalin sada zumunta:
Facebook: https://facebook.com/naijcomhausa Twitter: https://twitter.com/naijcomhausa
Idan kuna da wata shawara ko bukatar bamu labari, Tuntube mu a: labaranhausa@corp.legit.ng
Source: Hausa.legit.ng