'Yan daba sun afka wurin da aka ajiye kayan tallafin korona a Osun
- 'Yan daba sun afka wani dakin ajiyar kayan abinci a jihar Osun
- Fusatattun matasan sun debi kayan abinci da suka hada da taliya da shinkafa
- Dan majalisa mai wakiltan Ede North, Kofoworola Babajide ya tabbtar da afkuwar lamarin
Wasu da ake zargin 'yan daba ne sun afka wuraren ajiye kaya da aka ajiye kayan abinci na tallafin COVID 19 da ke harabar Cocoa Processing Industrial, Ede, a jihar Osun.
The Punch ta ruwaito cewa wakilin ta ya samu bidiyon da ke nuna mutane suna diban kwalayen taliya da buhunnan shinkafa, gishiri, sukari, garri da sauransu daga dakin ajiyar kayan.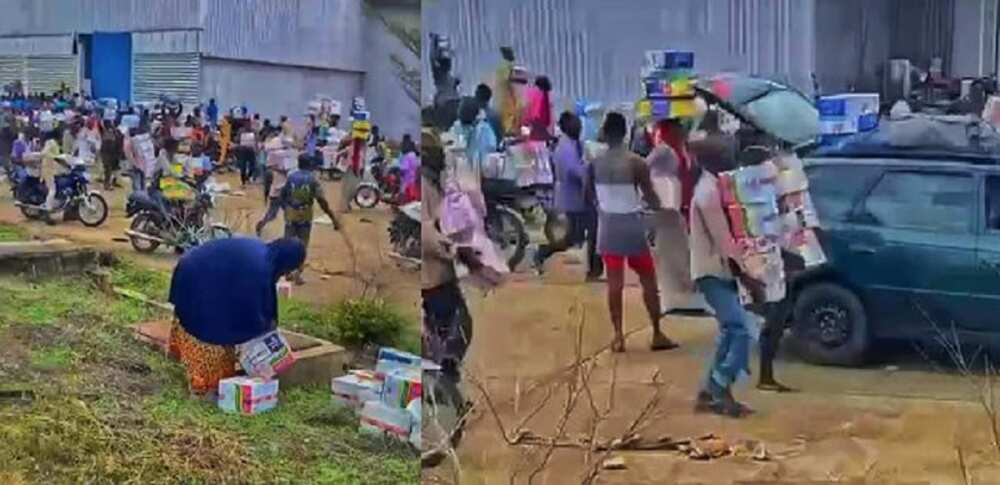 'Yan daban da matasan sun yi kutsen ne misalin karfe 11.40 na safiyar ranar Juma'a kamar yadda The Nation ta ruwaito.
Wasu matasan sun taho da babura, motocin bas da wasu ababen hawan daban daban inda suka yi ta diban kayan abinci nau'i daban daban.
DUBA WANNAN: EndSARS: Adesina ya dora laifi kan masallatai da coci-coci
Dan majalisa mai wakiltan mazabar Ede North, Kofoworola Babajide ya tabbtar da afkuwar lamarin.
Ya ce, "Sun afka dakin ajiyar kayan abincin kafin sojoji su isa wurin."
KU KARANTA: Gwamna Wike ya saka dokar hana fita a wasu kananan hukumomi
Latsa wannan domin samun sabuwar manhajar labarai ta Legit.ng Hausa a wayar ku ta hannu: https://play.google.com/store/apps/details?id=com.naij.hausa
Ku biyo mu a shafukanmu na dandalin sada zumunta:
Facebook: https://facebook.com/legitnghausa
Twitter: https://twitter.com/legitnghausa
Idan kuna da wata shawara ko bukatar bamu labari,
Tuntube mu a: labaranhausa@corp.legit.ng
Source: Legit.ng News