Duniya tabbas makaranta ce kamar kuma dai yadda Hausawa ke cewa maganin mai kokari. Hakan dai na neman tabbata ne biyo bayan labarin da muka samu na batan basirar wasu mutane iyalan wani hamshakin miloniya matashi da suka rufe shi a akwatin zinare.
Matashin mai kudin da ke da shekaru akalla 33 kacal a duniya mai suna Sheron Sukhedo mun kuma samu cewa an rufe shi da tarin dukiyar da ta kai dalar Amurka dubu 100 wanda ya kai kimanin Naira miliyan dubu 360.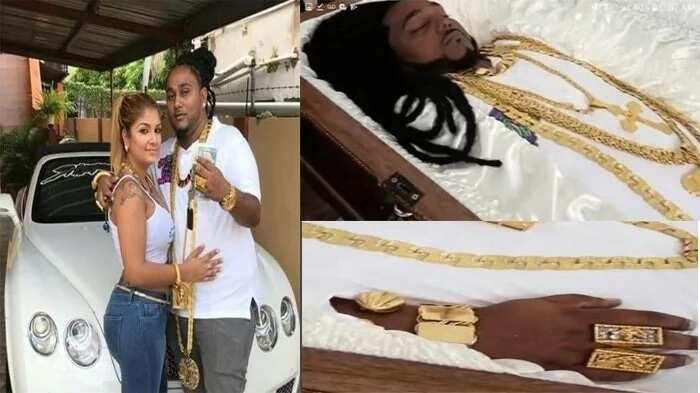 KU KARANTA: Buhari zai shimfida bututan mai 2 a Arewa
Legit.ng dai ta samu cewa an kashe matashin ne a sakamakon harbin sa da akayi da bindiga a kasar Trinidad and Tobago da wasu 'yan bindiga suka yi da ba a san ko suwaye ba.
A wani labarin kuma, Hukumar nan ta gwamnatin tarayya ta musamman dake yaki da msu cin hanci da rashawa ta kasa watau Economic and Financial Crimes Commission (EFCC) shiyyar jihar Gombe dake a arewa maso gabshin kasar nan ta sanar da samun nasarar kwato akalla Naira miliyan 130 a cikin wata 3.
Wannan alkaluma dai sun fito ne daga bakin shugaban hukumar a jihar Johnson Babalola yayin zantawar sa da manema labarai a garin Gombe, babban birnin jihar a ranar Alhamis din da ta gabata.
Idan ka na da wani shawara ko bukatan bamu labari, tuntube mu a labaranhausa@corp.legit.ng Ku ci gaba da bin mu a Facebook: https://www.facebook.com/naijcomhausa da
Kuma Tuwita: http://twitter.com/naijcomhausa
KU LATSA: Sabuwar hanyar karanta labarain Legit.ng HAUSA
https://play.google.com/store/apps/details?id=com.naij.hausa&hl=en
Source: Hausa.legit.ng