- Ibrahim Magu ya fadi wata gadar zaren da suke shirya wa 'yan siyasar kasar nan
- Yace zasu sa ma 'yan siyasa ido game da kashe kudin su a zabukan 2019
- Yace za suyi hadin gwiwa da INEC ma
Mukaddashin shugaban hukumar dake yaki da masu yiwa tattalin arzikin kasa zagon kasa watau Economic and Financial Crimes Commission (EFCC), a turance mai suna Ibrahim Magu yace hukumar sa za ta sa ido sosai ga 'yan siyasa yayin da zabukan shekarar 2019 ke kara karatowa.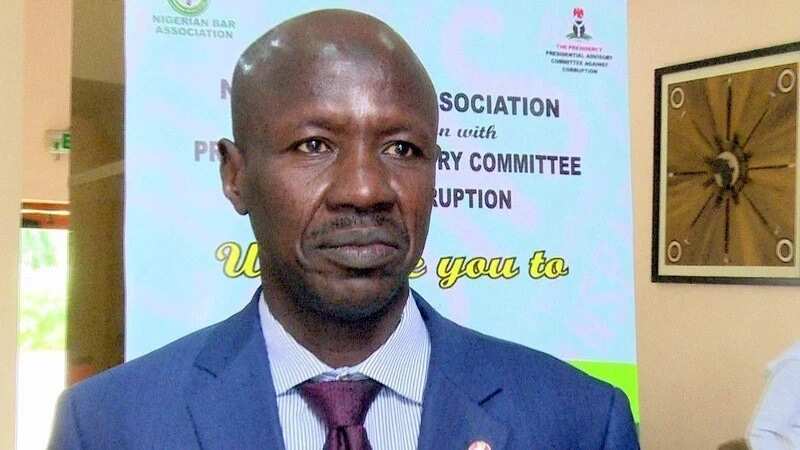 KU KARANTA: Masana daga Landan sun yi hasashen faduwar Buhari zabe
Ibrahim Magu wanda yayi wannan kalamin a yayin wani taron manema labarai da ya kira yace jami'an za su kara kaimi wajen lura da hada-hadar kudaden da 'yan siyasar za suyi a bankuna da kuma ma keke-da-keke.
Legit.ng ta samu haka zalika shugaban hukumar wanda har yanzu ba a tabbatar da shi ba yace hukumar sa zata kulla wata yarjejeniya mai karfi da hukumar zabe mai zaman kanta ta kasa watau Independent National Electoral Commission (INEC) wajen dakile sayen kuri'u.
A wani labarin kuma, Bangaren masana tattalin arzikin kasa watau Economist Intelligence Unit (EIU) na wata mujallar birnin Landan watau The Economist Magazine ta yi hasashen faduwar Shugaba Buhari zaben 2019 da za'a gudanar.
Mujallar dai wadda ake bugawa a birnin na Landan haka zalika tayi hasashen cewa jam'iyyar adawa ta Peoples Democratic Party (PDP) ce zata lashe zaben da za'a gudanar nan da 'yan watanni kadan.
Latsa wannan domin samun labarai a wayar ku ta hannu: https://play.google.com/store/apps/details?id=com.naij.hausa&hl=en
Ku biyo mu a shafukanmu na dandalin sada zumunta:
Facebook: https://facebook.com/naijcomhausa
Twitter: https://twitter.com/naijcomhausa
Idan kuna da wata shawara ko bukatar bamu labari,
Tuntube mu a: labaranhausa@corp.legit.ng
Source: Hausa.legit.ng