A yayin da ake ci gaba da kai ruwa rana a babbar jam'iyyar APC mai mulki a kasar nan ta Najeriya mun samu cewa, wasu gwamnoni biyar na jam'iyyar sun fara ƙulle-ƙullen warware shawarar shugaban kasa Muhammadu Buhari wajen gudanar da zaben fidda gwani na 'yar tinƙe kai tsaye.
Kamar yadda shafin jaridar The Nation ya ruwaito, gwamnonin biyar ba su da ra'ayi akan gudanar da 'yar tinƙe yayin zaben fidda gwanaye na jam'iyyar da za su fafata a babban zabe na 2019 kamar yadda shugaba Buhari ya bayar da shawara tare da nuna goyon bayan sa akan hakan.
Shugaba Buhari ya bayyana goyon bayansa matuka akan aiwatar da zaben 'yar tinƙe a yayin taron jam'iyyar APC da aka gudanar a makon da ya gabata.
Rahotanni sun bayyana cewa, ko shakka ba bu gwamnonin biyar na gudanar da wannan shirin na su na ƙulle-ƙulle kasancewar rashin shugaba Buhari a kasar nan da ya kai ziyara Birnin Sin domin halartar wani babban taro.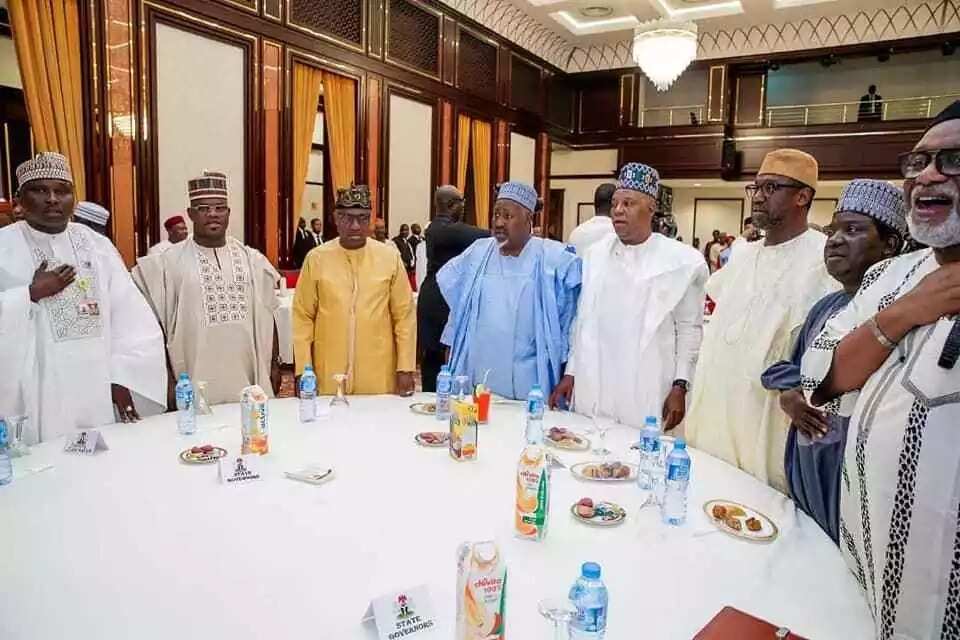 A yayin taron kusoshin jam'iyyar da aka gudanar a ranar Alhamis din da ta gabata, shugaba Buhari ya bayar da muhimman dalilai dangane da wannan shawara inda 'yan majalisar dokoki ta tarayya na jam'iyyar suka raja'a a kai tare da nuna goyon bayan su.
Legit.ng ta fahimci cewa, a daren ranar Litinin din da ta gabata ne shugaban jam'iyyar, Kwamared Adams Oshiomhole da wasu jiga-jigan jam'iyyar suka gudanar da wani taro dangane da wannan dambarwa dake kunno kai kan zaben fitar da gwanaye na jam'iyyar.
KARANTA KUMA: 2019: Samuel Ortom ya yanki Tikitin takara ta kujerar Gwamnan jihar Benuwe
Wasu daga cikin mambobin jam'iyyar na goyon bayan gudanar da zaben kai tsaye na 'yar tinke a yayin da wasu ke goyon gudanar da zaben kamar yadda aka saba a baya ta hanyar amfani da wakilai da za su fidda gwanaye ta hanyar kada kuri'un su.
Wata majiya mai karfin gaske kamar yadda shafin jaridar The Nation ya bayyana, ta haskaka gwamnonin biyar dake kokarin warware shawarar shugaba Buhari da suka hadar da; biyu daga Arewa ta Tsakiya, daya-daya daga Arewa ta Gabas, Arewa ta Yamma da kuma wani guda daga Kudancin kasar nan.
Latsa wannan domin samun sabuwar manhajar labarai ta Legit.ng Hausa a wayar ku ta hannu: https://play.google.com/store/apps/details?id=com.naij.hausa&hl=en
Domin shawara ko bamu labari, a tuntube mu a: labaranhausa@corp.legit.ng
Ku duba shafukanmu na dandalin sada zumunta a:
https://business.facebook.com/pg/naijcomhausa
https://twitter.com/naijcomhausa
Source: Hausa.legit.ng