- Dan sanda ya kashe direban mota saboda cin hancin Naira 10
- Lamarin ya auku ne a jihar Taraba
Wani labari mai ban takaici da ya riske mu na nuni ne da cewa wani dan sanda kashe wani direban motar haya har lahira saboda cin hancin Naira 10 da ya ki bashi.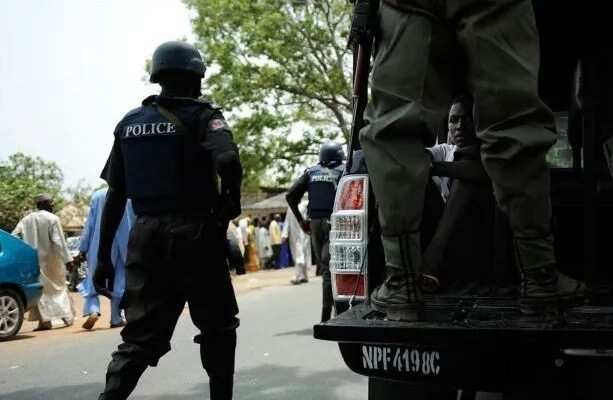 KU KARANTA: Kasashen duniya sun bayyana ra'ayin su game da takarar Buhari
Kamar dai yadda muka samu, lamarin ya auku ne a garin MaiSamari a karamar hukumar Sardauna ta jihar Taraba inda 'yan sandan suka saka wani shinge suna tare ababen hawa har sai sun bayar da Naira 50 sannan su wuce.
Legit.ng ta samu cewa shi kuma direban da dan sandan ya kashe mai suna Muhammad Danjuma mai shekaru 56 a duniya da ya fito daga garin Nguroje ya ba yan sandan Naira 40 ne maimakon Naira 50 inda kuma suka bukaci ya cika shi kuma yace babu.
Majiyar mu ta kara da cewa hakan ne ma ya ja zazzafar muhawara wanda ta kacame ta koma rigima inda shi kuma dan sandan yayi wa direban bugun tsiya har rai yayi halin sa.
A wani labarin kuma, Hukumar nan ta gwamnatin tarayya dake yaki da masu safarar mutane da muzgunawa yara kanana da mata ta National Agency for the Prohibition of Trafficking in Persons, NAPTIP tace ta samu nasarar cafke wani malamin addinin kirista da laifin yin zina da 'yan mata.
Hukumar ta ce babban malamin wanda yake da shekaru 46 a duniya sun kama shi ne a garin Abuja babban birnin tarayya tare da kuma wasu mutanen su biyu.
Latsa wannan domin samun labarai a wayar ku ta hannu: https://play.google.com/store/apps/details?id=com.naij.hausa&hl=en
Ku biyo mu a shafukanmu na dandalin sada zumunta:
Facebook: https://facebook.com/naijcomhausa
Twitter: https://twitter.com/naijcomhausa
Idan kuna da wata shawara ko bukatar bamu labari,
Tuntube mu a: labaranhausa@corp.legit.ng
Source: Hausa.legit.ng