A ranar Litinin din da ta gabata ne gwamnan jihar Sakkwato, Aminu Waziri Tambuwal, ya bayyana cewa da yaso yana da duk wata buƙata da cancanta ta ƙalubantar shugaban kasa Muhammadu Buhari a jam'iyya mai ci ta APC.
Gwamnan na birnin Shehu ya yi babatu gami da bugun kirji tare cika baki da cewa, da ya so yana da duk wata cancanta ta yin fito na fito wajen takarar fitar da gwani tsakanin sa da shugaba Buhari a karkashin inuwa ta jam'iyyar APC.
Tambuwal ya bayyana hakan yayin mayar da martani ga kanwa uwar gamin matsalolin jam'iyyar APC, Asiwaju Bola Tinubu, wanda ya ce gwamnan ya fice ne daga jam'iyyar kadai domin fargaba ta rashin samun tikitin takara na jam'iyyar.
Tsohon gwamnan na jihar Legas ya bayyana cewa, Tambuwal ya sauya sheka ne zuwa jam'iyyar adawa ta PDP sakamakon fargaba ta rashin samun tikitin jam'iyyar wajen ƙalubalantar shugaba Buhari yayin zaben fitar da gwani.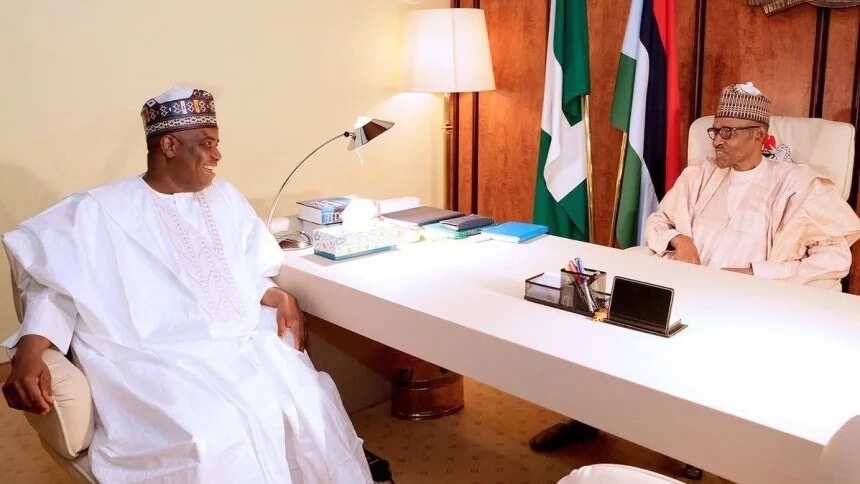 Kamar yadda shafin jaridar The Punch ya ruwaito, Tambuwal ya mayar da wannan martani cikin wata sanarwa a shafin zauren sada zumunta na fadar gwamnatin sa, inda yake cewa da yana da sha'awar kujerar shugaban kasa to kuwa yana duk wata cancanta ta fito na fito da shugaba Buhari a jam'iyyar APC.
KARANTA KUMA: 'Kasar Amurka ta caccaki gwamnatin Shugaba Buhari kan Kashe-Kashe
A kalaman sa, "da na so kuma a tunanin Tinubu kujerar shugaban kasa ta sanya na sauya sheka, zan iya neman takara da shugaba Buhari karkashin jam'iyyar APC domin kuwa ina da duk wata cancanta ta fito na fito da shugaban kasa."
Legit.ng ta fahimci cewa, Tambuwal na daya daga cikin gwamnonin jam'iyyar APC da suka sauya sheka zuwa jam'iyyar adawa ta PDP yayin da guguwar sauyin sheka ta kada a kasar nan.
Latsa wannan domin samun labarai a wayar ku ta hannu: https://play.google.com/store/apps/details?id=com.naij.hausa&hl=en
Ku biyo mu a shafukanmu na dandalin sada zumunta:
Facebook: https://facebook.com/naijcomhausa
Twitter: https://twitter.com/naijcomhausa
Idan kuna da wata shawara ko bukatar bamu labari,
Tuntube mu a: labaranhausa@corp.legit.ng
Source: Hausa.legit.ng