Uwar gidan tsohon shugaban kasar Najeriya Patience Jonathan ta kara shiga wata tsomomuwar biyo bayan umurnin wata babbar kotu dake zaman ta a garin Legas na kwace zunzurutun kudaden ta da suka kai Naira 9.2 biliyan, Dala 8.4 miliyan ta kuma ba gwamnatin tarayya.
Kamar dai yadda muka samu daga majiyar mu ta ce a baya ne dai hukumar nan dake yaki da masu yi wa tattalin arzikin kasa zagon kasa watau Economic and Financial Crimes Commission (EFCC) ne suka kai ta kara.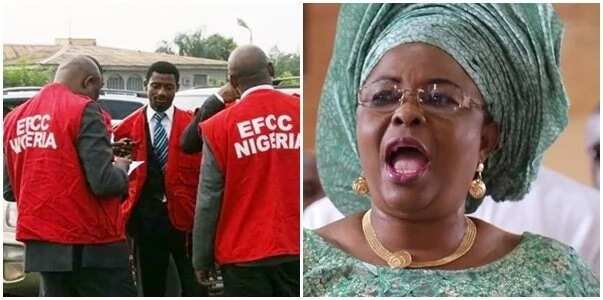 KU KARANTA: Dan majalisa da dubban magoya bayan sa sun koma PDP daga APC a Kaduna
Legit.ng ta samu cewa sai dai alkalin kotun ya umurci hukumar ta Economic and Financial Crimes Commission (EFCC) da ta shelanta hukuncin na kotun a shafukan jaridun kasar nan domin kowa ya sani ko da a iya samun wanda zai yi inkarin hakan.
A wani labarin kuma, Jami'an rundunar 'yan sandan Najeriya shiyyar jihar Benue dake a yankin Arewa ta tsakiya sun ayyana samun nasarar cafke wasu mutane da suka ce suna gudanar da kasuwancin saye da sayarwar muggan makamai.
Kamar dai yadda muka samu, a ranar Talatar da ta gabata ne dai rundunar ta 'yan sanda ta gabatar da wadanda take zargi da aikata laifin ga 'yan jarida a harabar hedikwatar 'yan sandan dake a garin Makurdi.
Idan ka na da wani shawara ko bukatan bamu labari, tuntube mu a labaranhausa@corp.legit.ng Ku ci gaba da bin mu a Facebook: https://www.facebook.com/naijcomhausa da
Kuma Tuwita: http://twitter.com/naijcomhausa
KU LATSA: Sabuwar hanyar karanta labarain Legit.ng HAUSA
https://play.google.com/store/apps/details?id=com.naij.hausa&hl=en
Source: Hausa.legit.ng