- An sha fama da matar Jonathan a kotu
- Tace dukkkan miliyoyin daloli da biliyoyin Nairori dake bankinta halas dinta ne
- Bata taba wani aiki ba banda a jiharsu, sai 'Fes Lady'
A jiya ne Hukumar yaki da almundahana ta kudi ta fadi a yunkurin da tayi na sa matar tsohon shugaban kasa, Dame Patience Jonathan da wasu mutane shida na dawo da dala miliyan 8.435,789.84 da Naira 9,185,327,362 billion, wanda aka danganta su shi.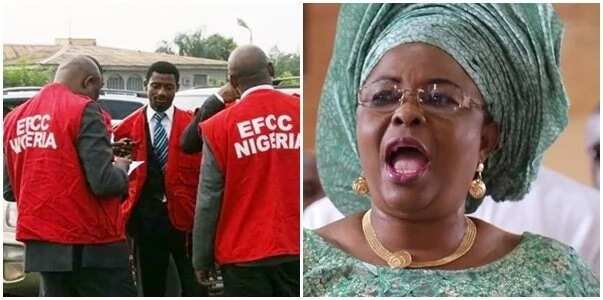 Bayan shafe shekaru kusan uku ana shari'a kan yawan kudaden da aka taras a asusun matar tsohon shugaba Jonathan, kotu ta yanke hukunci kan cewa kudin dai wai nata ne halak-malak, don haka gwamnati ta bata kudinta ta kashe.
A asusun nata na banki, an sami $8.4m, da N9.1bn kudade da tuni aka daskarar dasu, amma majalisa da kotu suka ce a bar mata kudinta.
Mai shari'a Majisola Olatoregun yayi watsi da karar domin bata wa kotu lokaci.
Mai shari'ar yace kwamishinan ya kasa nuna shaida wadatacciya a gaban kotun.
Hukumar tace kudaden suna Skye bank plc, Diamond Bank plc, stanbic IBTC da kuma First Bank plc.
A cikin shaidun matar Jonathan a kotun sune, Globus integrated service Limited, Finchley Top Homes Limited, AMPM Global Network Limited, Pagmat Oil and Gas Limited da Magel Resort Limited da wata Esther Oba.
A karkashin mai shari'ar Olatoregun, ta dorawa hukumar laifin amfani da abinda kafafen yada labarai ke cewa a maimakon yi ma wanda ake zargi adalci.
Ta kalubalanci hukumar da yawo daga kotu zuwa kotu domin kaskantar da kuma bata wa wanda ake zargi suna ba tare da an yanke musu hukunci.
Tace wannan karya dokan kotu ne shigar da kara daya a rassan babbar kotun tarayya kamar yanda hukumar ta kai kara zuwa ga mai shari'a Nyako, ita da kuma mai shari'a tsoho da ke Abuja.
Tace fada da rashawa ba yana nufin kin mutunta hakkin yan'kasa ba.
Uwargidan Jonathan ta bakin lauyoyinta, Mista Ifedayo Adedipe(SAN) da Mike Ozekhomeh (SAN), sun ce kotu tayi watsi da karar hukumar don sun kaucewa tsarin kotun.
DUBA WANNAN: Ko Buhari ya yarda yanzu cewa Abacha ya kwashe kudin Najeriya?
Kudin, $8. 435,789.84 million, da ma N9,185, 327, 362 billion an ajje su ne a bankin Skye Bank Plc, Diamond Bank Plc, da Stabic-IBTC and First Bank Plc. Jastice Mojisola ce tace karar ta saba ka'idar kotu don haka ta kori karar.
Ana sa rai dai EFCC zata sake daukaka kara.
An wawashi kudi da yawa a lokacin mulkin PDP. Kuma har yanzu ba'a gamma gano, ko kwato kudaden ba.
Latsa wannan domin samun labarai a wayar ku ta hannu: https://play.google.com/store/apps/details?id=com.naij.hausa&hl=en
Ku biyo mu a shafukanmu na dandalin sada zumunta:
Facebook: https://facebook.com/naijcomhausa
Twitter: https://twitter.com/naijcomhausa
Idan kuna da wata shawara ko bukatar bamu labari,
Tuntube mu a: labaranhausa@corp.legit.ng
Source: Hausa.legit.ng