- Alhaji Ladan Baba, mai shugabantar ofishin bautar kasa na kano, yace' yan bautar kasa bakwai ne zasu maimaita shekarar a sakamakon gujewa aiyukan da aka sa su
- Baba ya bayyana hakan ne a kano a gurin yaye yan'bautar kasa na farkon shekarar 2017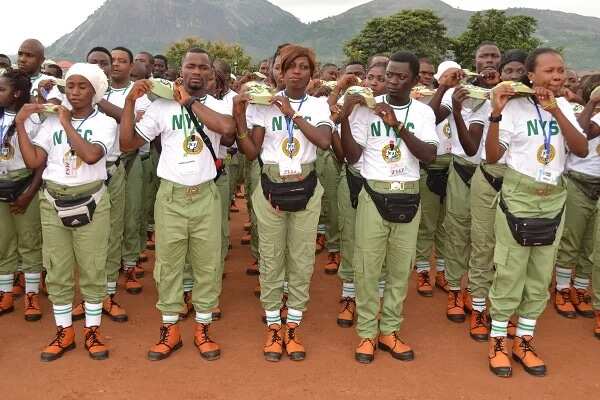 Alhaji Ladan Baba, mai shugabantar ofishin bautar kasa na kano, yace yan'bautar kasa bakwai ne zasu maimaita shekarar a sakamakon gujewa aiyukan da aka sa su.
Baba ya bayyana hakan ne a Kano a gurin yaye yan bautar kasa na farkon shekarar 2017. Kamar yanda shugaban yace, hukumar ta tanadar wa duk dan bautar kasan da yayi wata uku ba tare da yin aikin shi ba kuma babu wani uzuri maimaita
"Mutane 2,405 ne masu bautar kasa ake yayewa yau. Banda mutane 7 da zasu maimaita shekarar, akwai wasu 17 da za a hukunta da kara musu satittika ko watanni biyar."
Baba ya kara da cewa yan bautar kasa guda biyar sun nuna bajintarsu, a inda jihar zata ba biyu daga cikinsu kyautar girmamawa, sauran ukun kuma za a basu wasikun yabo.
"Yan'bautar kasar dai an rarraba su ne a bangarori guda hudu, bangaren noma da kiwo, lafiya, ilimi da kuma bangaren cigaban ababen more rayuwa a cikin kananan hukumomi 44 na jihar.
DUBA WANNAN: Dole Najeriya ta inganta kiwon lafiya daga kudaden ta
Rahoto ya nuna cewa sun jajirce kuma sun kawo cigaban bangarori da dama na jihar.
"A cikin shekarar mun rasa daya daga cikin yan'bautar kasan mai suna Sani Kayode daga jihar Ogun wanda yake hidimarshi a Aminu Kano College of Islamic and Legal studies"
Shugaban hukumar ya jinjiinawa Gwamnatin jihar sakamakon goyon baya da take ba ma hukumar.
Latsa wannan domin samun labarai a wayar ku ta hannu: https://play.google.com/store/apps/details?id=com.naij.hausa&hl=en
Ku biyo mu a shafukanmu na dandalin sada zumunta:
Facebook: https://facebook.com/naijcomhausa
Twitter: https://twitter.com/naijcomhausa
Idan kuna da wata shawara ko bukatar bamu labari,
Tuntube mu a: labaranhausa@corp.legit.ng
Source: Hausa.legit.ng