- Inda ace Buhari yaci mulki a 2011 shi ne maganar da yayi zata zama hujja akansa
- Tunda sai a 2015 Buhari yaci zabe, to sai a manta da waccar maganar
Kakakin shugaban kasa, Femi Adesina, ya bukaci yan Najeriya da su manta da batun da Muhammadu Buhari yayi a 2011, na cewa in an an zabe shi sau daya kawai zai yi babu kari.
Adesina ya dai fadi hakan ne a wata hira da akai da shi a gidan talabijin na Channels, yace, "Tunda a lokacin da yayi waccan maganar bai ci zabe ba, to kaga babu abinda zai kawo ta yanzu, don in ba kira ba abinda zai ci gawayi."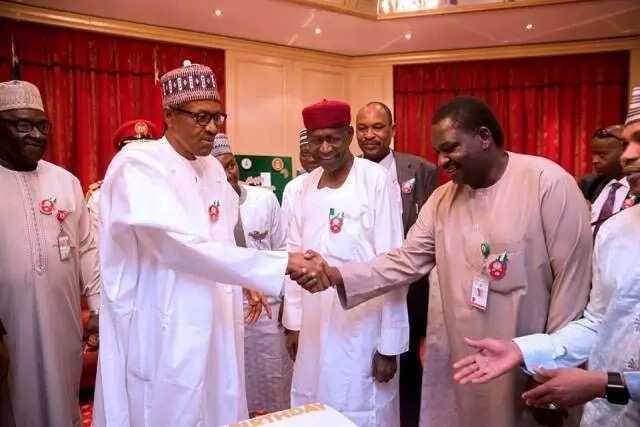 "Na halarci tarurruka da yawa tun shekarar da ta gabata, wadanda makasudinsu shi ne,neman Shugaba Buhari ya yarda ya zarce, zai yi magana akan komai amma daga anzo maganar zarcewa kullum baya ce musu komai akai. Wannan shi ya nuna cewa ba mulkin ne a gabansa ba, yafi damuwa da yadda zai yiwa jama'ar da suka zabe shi aiki ba maida hankali wurin tunanin zarcewa ba."
KU KARANTA: Da Buhari ya sani da bai ce zai kara tsayawa takara ba a 2019
Hadimin na shugaban kasa ya cigaba da cewa, ko dan abu uku yan Najeriya zasu zabi Buhari, samar da tsaro da habaka tattalin arziki tare da yaki da cin-hanci da rashawa. Kuma dama akan su ne alkawarukan da shugaba Muhammadu Buhari yayi yin yakin neman a zabe 2015.
Indai mutum ba makaho bane, to lallai yasan an samu cigaba a "Tabbas an samu gagarumar nasara idan aka kwatanta da baya a wadannan fannoni uku". A cewar Femi Adesina.
Latsa wannan domin samun sabuwar manhajar labarai ta Legit.ng Hausa a wayar ku ta hannu:
https://play.google.com/store/apps/details?id=com.naij.hausa&hl=en
Domin shawara ko buƙatar bamu labari, tuntuɓe mu a: labaranhausa@corp.legit.ng
Ku duba shafukanmu na dandalin sada zumunta a:
https://facebook.com/naijcomhausa
https://twitter.com/naijcomhausa
Source: Hausa.legit.ng