Jam'iyyar adawa ta PDP ta kalubalanci shugaban kasa Muhammadu Buhari ya yiwa 'yan Najeriya bayanin yadda kudin danye man fetur tiriliyan N1.1tn da Najeriya ta samu suka bace a lokacin mulkinsa.
Jam'iyyar ta bayyana hakan ne jiya Asabar a matsayin raddi ga sunayen 'ya'yan jam'iyyar PDP da gwamnatin tarayya ta fitar kuma ta ce sun saci kudin Najeriya lokacin mulkinsu.
A wani jawabi da sakataren yada labaran jam'iyyar PDP, Kola Ologbondiyan, ya fitar, PDP ta ce Najeriya tayi asarar kudin shiga da adadinsu ya kai tiriliyan N1.1tn a karkashin shugaba Buhari kuma ministan man fetur na kasa.
Kazalika jam'iyyar ta PDP ta kalubalanci jam'iyyar APC da ta fadi inda ta samo kudin da tayi yakin neman zaben 2015 da su.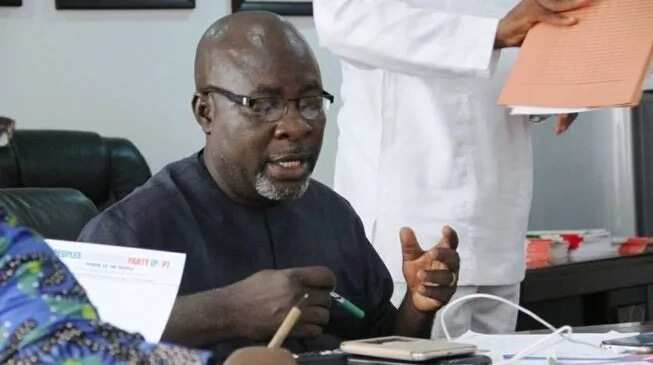 Ologbondiyan ya soki yaki da cin hanci da rashawa da gwamnatin Buhari ke yi tare da bayyana shugaba Buhari a matsayin mutumin da ya ci moriyar badakalar da gwamnonin jam'iyyar PDP suka tafka kafin su canja sheka zuwa jam'iyyar APC.
"Mun kalubanci shugaba Buhari ya fito ya bayyanawa 'yan Najeriya inda ya samu kudin da ya yi yakin neman zabe da su a shekarar 2003, 2007, da 20011 da kuma sunayen wadanda suka bashi tallafin kudaden."
DUBA WANNAN: Shugabancin jam'iyyar APC: Dakarun 'yan siyasa da kan iya maye gurbin Oyegun
"Muna son ya fito ya shaidawa jama'a adadin kudin da wani gwamna a yankin kudu maso kudu ya bashi lokacin yakin neman zaben shekarar 2011. Buhari da jagororin jam'iyyar APC na da kashi a gindinsu kuma matukar da gaske gwamnatin tarayya da gaske take yi a yakin da take yi da cin hanci to ta fadada bincikenta zuwa kan 'ya'yan jam'iyyar da suka dauki nauyin yakin neman zaben Buhari a shekarar 2015," inji Ologbondiyan.
Jam'iyyar PDP ta ce, idan gwamnatin tarayya na son yin adalci ga kowa, to ya kamata ta binciki wadannan zargin almundahana da PDP ta dade tana bayyanawa tare da ragowar badakala da aka tafka ta fiye da biliyan N18bn a kudin kula da 'yan sansanin gudun hijira da badakalar biliyan N10bn ta hukumar NHIS.
Latsa wannan domin samun sabuwar manhajar labarai ta Legit.ng Hausa a wayar ku ta hannu: https://play.google.com/store/apps/details?id=com.naij.hausa&hl=en
Ku biyo mu a shafukanmu na dandalin sada zumunta:
Facebook: https://facebook.com/naijcomhausa
Twitter: https://twitter.com/naijcomhausa
Idan kuna da wata shawara ko bukatar bamu labari,
Tuntube mu a: labaranhausa@corp.legit.ng
Source: Hausa.legit.ng