- A kullun ana ci gaba da samun cece-kuce game da zaben 2019 a Najeriya
- Mataimakin shugaban majalisar dattawa, Sanata Ike Ekweremadu ya bi sahun tafka muhawaran
- Ekweremadu ya fi maida hankali akan zabe mai inganci
Mataimakin shugaban majalisar dattawa, Ike Ekweremadu ya yi kira ga shugaban kasa Muhammadu Buhari day a tabbatar da cewa gwamnatinsa ta gudanar da zabe mai gaskiya da inganci a 2019.
Ya kuma shawarci shugaban kasar da shirya karban sakamakon zaben idan har shi ko jam'iyyar APC ta gaza yin nasara a zaben shugabancin kasa mai zuwa.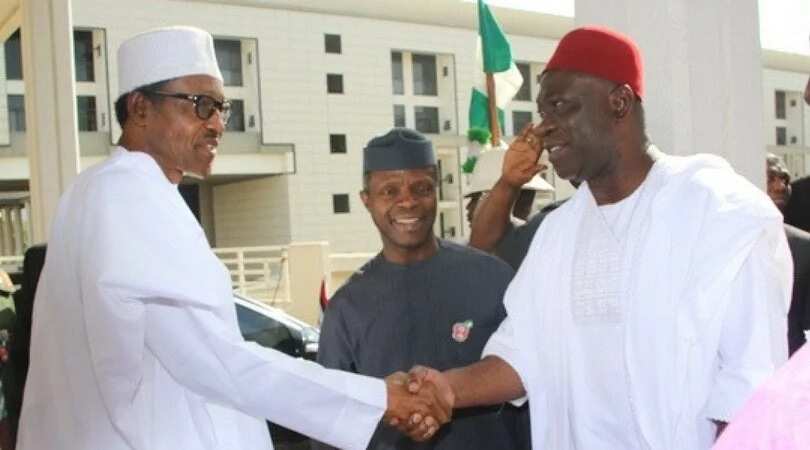 Ya fadi hakan ne duk da kokawa da yayi akan wannan cuta dake damun yankin Afrika, wanda ya bayyana a matsayin babban kalubale ga damokradiyyan Afrika.
KU KARANTA KUMA: Obasanjo na neman jam'iyyar da zai dunga juyawa ne - Keyamo
Ya ba da wannan shawarar ne yayinda yake Magana a malisar Amurka, inda ya bayar da wani darasi mai taken "Siyasar Afrika: Sauye-sauye da darusa" wato "African Politics: The Dynamics and Lessons."
Ya jadadda cewa ya zama dole Najeriya ta zamo abun koyi ga sauran kasashen Afrika, sannan kuma ta zamo abun darajawa a idanun duniya.
Latsa wannan domin samun sabuwar manhajar labarai ta Legit.ng Hausa a wayar ku ta hannu: https://play.google.com/store/apps/details?id=com.naij.hausa&hl=en
Idan ka na da wata shawara ko bukatar ba mu labari, a tuntube mu a labaranhausa@corp.legit.ng
Ku same mu a https://www.facebook.com/naijcomhausa
Ko a http://twitter.com/naijcomhausa
Source: Hausa.legit.ng